Unibet NJ sportsbook review
Unibet NJ sportsbook review
Estimated Reading Time: 7 minutes
Site:
nj.unibet.com/sports
Customer service email:
[email protected]
Customer service phone number:
1-855-655-6310
The Unibet New Jersey sportsbook is new on the scene, as they launched in September of 2019. However, the Unibet name is not a new one, as they are a respected betting company that has been online since 1998. While the Unibet NJ sports betting site is not the most attractive, it is easy to navigate and well set-up. They are fully legitimate and authorized by the State of New Jersey, Division of Gaming Enforcement (NJDGE). There is also a Unibet NJ casino that you can play through the same account as the sportsbook. There is a Unibet app for mobile betting and there are also many live betting options.
On the landing page you will see many of the live bets that are currently happening, and they have the links of Live Now and Starting Soon. Getting started at Unibet New Jersey is very easy through the Getting Started link where you simply sign up, make a deposit, and then you are ready to wager. You will have a Unibet login with a username and password that you set up, so it is totally safe and secure for the Unibet sign up. At Unibet NJ there are many sports to bet on, many different bet types, nice bonuses and promotions, several reliable banking methods, and 24/7 customer service with live chat. At the bottom of the page are the useful links of About Unibet, Sportsbook Rules, Bonus Policy, Terms & Conditions, Privacy Policy, Responsible Gaming, Mobile Apps, and Affiliate Partners. Also, at the top of the page are the links of Casino, Sports, Promos, and Getting Started.
Unibet Screenshot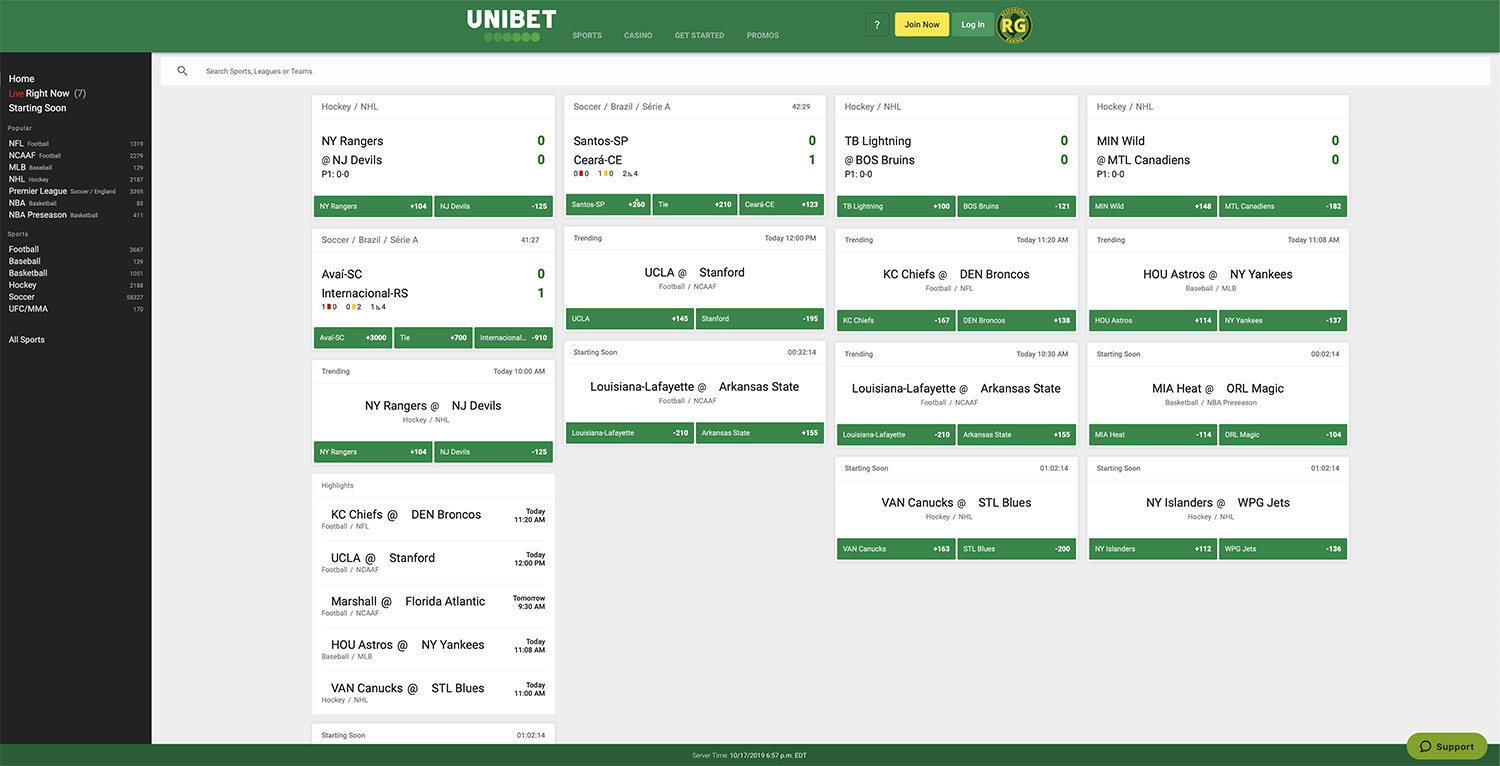 Unibet NJ sports betting options
Unibet NJ has no lack of sports to bet on, as they have them all covered from the big ones of football, soccer, baseball, hockey, football, basketball, golf and tennis. They also cover many other sports such as cricket, MMA, boxing, and cycling to just name a few. On the left hand side of the page you will not only see the sports they cover, but also the amount of bets available for that sport at that time. You can see odds in decimal, fractional, and American (moneyline) form and there is even a search box, so it is easy to find whatever event or match you are looking for.
Not only are there many sports to bet on, but many bet types as well. They have all the typical bets of strait bets with the spreads and totals as well as parlays, futures, proposition bets, and teasers. On the main page they show exactly how many live bets are happening and then around that box with the number they show some of the events going on. In terms of the live bets Unibet NJ has proposition bets besides straight bets and totals and not many sites offer those. Unibet New Jersey is a sportsbook for bettors in the state, but sports from all over the world are covered. You can just see how many soccer bets are available, as at time of writing in the soccer section there are just under 30,000 bets available, as they have odds on many leagues the world over. No matter what sport you click on it will show you all the odds as well as links on the top of Live & Upcoming, Futures, and one for all the bets available. It is also easy to keep track of all your wagers with the Bet Slip that is available.
Unibet NJ bonuses and promotions
While Unibet New Jersey does not have the biggest list of bonuses and promotions the ones they do offer are good ones. They also have many casino promotions as well, which you can see on the sportsbook site. They have a new player offer and in this solid Unibet promo when you sign up with them you can get two free bets of $10 as well as a risk free bet of up to $250. There is no Unibet code for this promotion. In the Unibet free bet promo you will get two $10 free bets by registering at the sportsbook and there is no deposit that is required. Upon registration you will immediately see the two $10 bets in your Bet Slip.
For the $250 free bet Unibet bonus you can wager on any event and if you lose the bet you will receive a refund to your sportsbook account in the amount of the bet up to $250. You will receive the refund in your account within 72 hours. Both of these Unibet promos are nice ones that will not cost you anything and the two $10 free bets is a no deposit promotion where you do not have to fund your account. However, to get out your winnings if your free bets are winners you will have to make a real money deposit. Both of these Unibet bonuses have wagering requirements.

There are season promotions available depending on what sports season it is. For example, at time of writing it is football season, so there is a Pigskin Parlay Unibet promo. There is also a Weekly Parlay Boost where you can boost your winning by up to 30%. The more legs are in the parlay bet the bigger you boost will be.
Unibet NJ mobile sportsbook
Through the Unibet app you can bet on the go in the mobile sportsbook. the application is available for both Android and iPhone users. While you can check out the odds and see the site through a mobile browser you must download the application in order to make wagers. The Unibet app is available from the Apple Store for iPhone users and while not available at Google Play you can download the app for Android users directly on the site.
To download the Unibet app for Android devices:
Visit www.nj.unibet.com on your tablet/smartphone
Configure the device to temporarily allow 'unknown sources' from the Security tab in the Settings are of your device
Download the application
The app is much like the main sportsbook for desktop users in that it is simple to navigate, and you can take advantage of all the things the regular sportsbook offers. This includes live betting, banking issues, customer service, and bonuses and promotions. The only real difference is that through the Unibet mobile sportsbook live chat is not available.
Unibet NJ banking options
There are several banking options at Unibet New Jersey sportsbook for both deposits and withdrawals. The minimum deposit at the sportsbook is only $10.
Here are the deposit methods at Unibet NJ:
Visa and Mastercard – These are two of the most trusted credit cards, but not all banks will allow for gaming transactions. In the Getting Started link it shows the banking options and for Visa and Mastercard it states, "If your card was issued by Bank of America, Capital One, JPMorgan Chase, Santander or Wells Fargo, we recommend trying one of the ACH payment methods."
PayPal – PayPal is a trusted e-wallet and an easy and secure way to deposit into your Unibet New Jersey account.
VIP Preferred e-check – A secure deposit method offered by VIP Preferred™ & Mazooma.
Play + – This is Unibet's prepaid card to use to fund your account.
Cash – You can deposit into your account using cash at any 7-11 in the state of New Jersey as well as at the Casino Cage, Hard Rock Hotel & Casino in Atlantic City.
All of the above deposit methods can be used for withdrawals as well with the exception of Visa, Mastercard, and cash at 7-11's. The payout times and limits will differ, but PayPal and VIP Preferred e-checks are paid out the quickest. You can also request that a check be sent to you for withdrawals, but that is the slowest options, as the check has to be physically mailed to your address.
Unibet NJ customer service
Unibet New Jersey has fantastic 24/7 customer service and you can reach them via e-mail, phone, and live chat. Once you go to the Unibet NJ sportsbook there is always a prompt for live chat at the bottom right hand side of the screen. The customer support phone number is toll free and there are the support e-mail addresses of General Inquiries, Marketing or Affiliate Program, Complaints, and Suggestions or Feedback. The live chat is nice as you can chat with a customer service representative and have issues taken care of in real time. While there is not really a FAQ section per say there is a lot of information in the links of the bottom of the page in Sportsbook Rules, Terms and Conditions, Bonus Policy, and Privacy Policy.
More: New Jersey Sportsbook Reviews
Unibet NJ player security
You can be sure that Unibet NJ is a totally safe and secure place to make bets not only because Unibet is a trusted brad, but also because the site is authorized by the State of New Jersey, Division of Gaming Enforcement. In the Privacy Policy link, you can see all the measures that Unibet NJ takes in order to protect player security. In that link they also have a sub link of Player Protection that shows how players can feel 100% safe and secure giving the site personal and financial information that is not shared with any third parties. There is also a lot of information in the Terms and Conditions link on the site spelling out all of the wagering rules and such.
Unibet New Jersey review
Unibet New Jersey is a solid and well set up sportsbook for New Jersey bettors and they offer them many things. First and foremost, they are a safe and secure site to legally make sports wagers in the state of New Jersey. The site is not the flashiest, but still is simple to navigate will all of the sports betting information you need right in front of you. The sports and bets to make on them are aplenty, there is 24/7 customer service, nice bonuses and promotions, and several reliable banking methods. It is simple to find what you are looking for in terms of sports and bets to make and this is the case for the desktop version as well as the mobile casino, which you can play at through the Unibet app.
Unibet is a very trusted and reliable brand that has been around the block for a long time and they recently opened up all they have to offer with their New Jersey sportsbook. the casino is top notch as well and through one account you can play there as well as at the sportsbook. They have been in business many years and have been successful because of how they treat their members, and this is the case for the Unibet NJ sportsbook as well. They have it all and more, as you cannot go wrong at Unibet New Jersey for all of your sports betting needs.