PointsBet NJ review
PointsBet NJ review
Estimated Reading Time: 7 minutes
Site:
https://pointsbet.com
Customer service email:
[email protected]
Customer service phone number:
833-338-PBET
PointsBet sportsbook was launched in 2017 in Australia and came to New Jersey when the laws for this USA state allowed for sports betting. Pointsbet is unique in that not only do they have the typical bets and odds for their FixedBetting, but also offer a PointsBetting option for wagers that allows you to maximize how much you win from a bet based on how correct it is. That is a special betting type that we will touch on that later in this PointsBet review. The site is attractive and while easy to navigate it is not setup like the typical sportsbook. They have the Featured Bets and Up Next bets on the landing page, but not a specific section where you can click on the link on the sports they offer odds on. PointsBet sportsbook NJ does offer many betting markets for many sports, they are just not the easiest to find.
PointsBet sports betting is a site that has a couple of big names in their corner pushing the site in NBA Hall of Famer Allen Iverson and former NFL All Pro Derrelle Revis. In the Revis Betting Academy link at the bottom of the page there are a few videos with Revis as well as many informative sections on sports wagering. PointsBet sportsbook is one that has more bonuses and promotions than other sportsbooks do and they have a unique type of welcome offer. Pointsbet has 24/7 customer service, solid player security, reliable banking methods, and a mobile version of their book. You can be sure that PointsBet sportsbook New Jersey is a legitimate sportsbook, as they are licensed and regulated by New Jersey's Division of Gaming Enforcement.
Sports betting overview at Pointsbet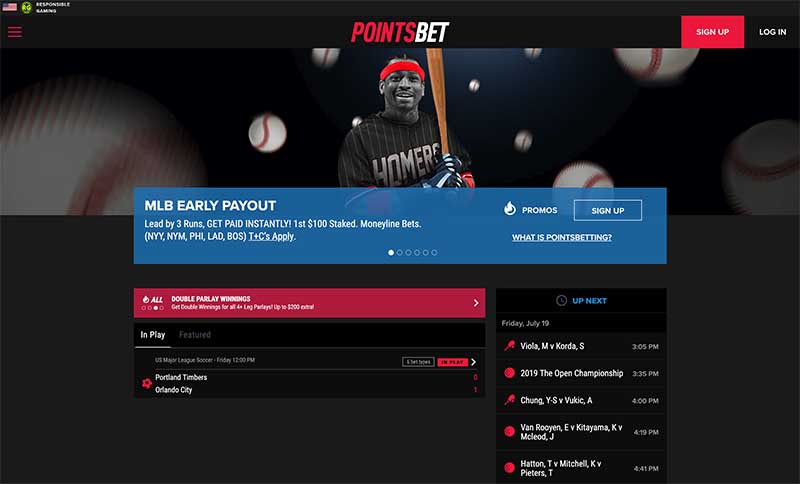 PointsBet sportsbook has many sports to bet on as well as many different bet types available, including their unique PointsBetting. They offer solid odds on all the major American sports of NBA, NFL, NHL, MLB, and college football basketball and are one of the better books when it comes to golf and tennis wagers.
They have odds posted for other sports as well, but on their main page really focus on the ones mentioned. Their FixedBetting wagers are the typical ones of the spread, moneyline, total, parlays, and futures and many of those betting markets are shown on the events on the main page where you will see quite a few of them for upcoming events.
However, also on the page they have some futures markets. For example at time of writing PointsBet NJ has NBA Outrights 2019/20 futures odds with a few of the top teams with the best odds and then right next to that has a link with all the NBA futures markets available of Outright Winner, NBA Eastern Conference Winner, NBA Western Conference Winner, To Make the Playoffs and To Miss the Playoffs.
Rather than just have a list of sports on the PointsBet sportsbook site they have them next to odds for a certain event like they do in the futures. For example, they do not have a link for baseball, but they have odds on the main page for a game and then next to it have a link for all of the baseball bets available and how many of them there are.
What is PointsBetting
Basically, PointsBetting is not a fixed bet with a fixed amount, but the more you are right about a bet the more you will win and the more you are wrong the more you will lose. If the wager you made wins by one point or unit you win 1x your stake amount and up. So if you win by 7 points you get 7x your stake. On the other side of the coin if you lose by a point you lose 1x and so on.
So, if you took the Over for a Lakers vs. Clippers game at 201 as the total and the total amount of points scored was 210 and you bet $10 you would win $90 winning by 9 points x $10 = $90. PointsBetting is available for a wide range of sports. Also, PointsBet NJ sports has many other prop bet types that other books do not have, as for example for a typical NBA game they will have 500 prop betting options and unlike other books they have wagers for time, such as will the first field goal in a NBA game be will be Over or Under 19 seconds.
In the Link of What is PointsBetting they show all the info you need to understand PointsBetting and other unique bets that PointsBet sportsbook offers. In the Revis Academy they have a few videos explaining PointsBetting and other types of bets and have other info such as Moneyline Betting 101, Spread Betting 101, Futures Betting 101, and Pick Your Own Spread 101.
Pointsbet Bonuses and Promotions

One of the advantages of using PointsBet sportsbook is that they have many bonuses and promotions. Their welcome bonus is a lucrative one where you can get two free risk-free bets up to $1,000. This bonus is only available for new customers and you can get up to a get up to a $500 refund, in bonus bets, if your first Fixed Odds bet is a losing one and get up to a $500 refund, in bonus bets, if your first PointsBetting bet loses.
Other bonuses the PointsBet NJ offers are:
Booster Odds bonus – where you can boost your odds on daily player and parlay bets with a maximum bet of $100.
Refer a Friend – In this bonus both you and a friend will get a $50 bonus when you refer a friend to the sportsbook, and they deposit at least $50.
All Bets to Win $10,000 – PointsBet sports will honor a maximum bet of $10,000 for all MLB and NFL games and for all NHL and NBA playoff games.
Parlay Refund Bonus – If you make a 4-team parlay and you win three of the game, but one is a loser you will get $50 cash back.
PointsBet NJ sportsbook also has many bonuses that change all the time depending on which season it is. For example, at time of writing it is during the MLB season and Wimbledon is also going on, so they have bonuses of special MLB parlays for three days, $1 for every Ace on a certain day at Wimbledon, and Lead by Three runs and get paid instantly for MLB games.
PointsBet sports betting also offers a Rewards Program where you get points for every bet made and you can then redeem the awards for cash. You can get 1 Rewards Point for every $5 fixed odds, typical, bet, 1 Rewards Point for every $1 parlay bet, and 1 point for every dollar won or lost in PointsBetting.
Pointsbet Mobile Sportsbook review
While researching our Pointsbet review, we found a solid mobile version of the PointsBet sportsbook available, plus a PointsBet app for both Android and iPhone devices. At the bottom of the Pointsbet landing page they have box links for downloading the application, with instructions, for Android devices and through the iPhone PointsBet app link you will be directed to the Apple Store to download the application.
The mobile version of the sportsbook is state of the art and offers all the things that the desktop version has. The setup is the same as the desktop version with a black background and red and white information for all of the betting options. Through the mobile version you can not only take advantage of all the betting action on the go, but also get in touch with customer service, take care of banking issues, and gain some great Pointsbet bonuses and promotions.
Pointsbet deposits & withdrawals
PointsBet sportsbook does not offer as many deposit and withdrawal options as other sportsbooks, but they do use reliable banking methods. They take Visa and MasterCard for deposits, but some banks have restrictions on credit cards, so it is a good idea to check with your bank before using these cards to fund your PointsBet New Jersey sportsbook account.
If you have an outstanding Pointsbet such as the unique high-rewards PointsBetting wagers then you may have funds withheld until the bet is settled. This can be frustrating, but the sportsbook does this to decrease the chance that the player's balance will be in the negative.
Here is some information on the deposit options at PointsBet sportsbook NJ:
MasterCard and Visa Debit & credit cards – Maximum deposit option of $50,000 and a minimum of $5
ACH eCheck – Maximum of $50 000, you can use this option to fund your PointsBet account straight from your bank account
There is also a unique PointsBet card that you can apply for at the site. With the card you can make both deposits and withdrawals. The digital version of the card can be used until you receive a physical one in the mail. Not only can you use the PointsBet card at the sportsbook, but you can use it as a debit card at ATM's as well as using it wherever MasterCard is accepted.
For withdrawals the only options for players is using an ACH eCheck or the PointsBet card. There is a lot of information in the terms of withdrawals available in the Terms and Conditions link for the site, which is located at the bottom of the page.
PointsBet customer service
PointsBet has very good 24/7 customer service and you can reach them via e-mail, live chat, and by phone. They are prompt in replying to e-mails and through live chat you can chat with a sportsbook customer service representative in real time getting issues resolved asap and having questions answered right away. In the Help link you will also see a good FAQ section with many sections of common questions people have.
Player security at Pointsbet.com
PointsBet sports is a very safe and secure place to wager, as they are licensed and regulated by New Jersey's Division of Gaming Enforcement. They use the latest technology to ensure that player personal and financial information is secure. They have information on security in their Terms and Conditions link and also have extensive information in their Player Protection link.
Pointsbet review conclusion
PointsBet is a newer sportsbook on the market, but a good one that is unique. They offer all the things that other sportsbook offer, such as many sports and wagering option, bonuses and promotions, solid player security, 24/7 customer service and reliable banking options.
We always try and write about unique aspects in our reviews, and what we found writing our PointsBet review that makes them unique is their PointsBetting option, which can be very lucrative for winning wagers and they offer more bonuses and promotions than most other sportsbooks online today.
The main drawbacks to the sportsbook is that they do not have many banking options and they do not have links for sports that take you right to the events offered. Still, Pointsbet is a good New Jersey sportsbook that offer their players many solid gaming options for a great sports betting experience.