FanDuel Sportsbook review
FanDuel Sportsbook review
Site:
https://sportsbook.fanduel.com
Customer service email:
[email protected]
Customer service phone number:
+1 877-689-0662 (from 10am to 8pm EST)
FanDuel is an online New Jersey sportsbook that launched a few months after the U.S. Supreme Court overturned the Professional and Amateur Sports Protection Act in May 2018. The company has a relationship with Meadowlands Racetrack in East Rutherford and is an industry leader in daily fantasy sports, so there is doubting the credentials of the NJ Fanduel Sportsbook.
The FanDuel New Jersey website is very easy on the eyes and even easier to navigate. The online bookie has a lot to offer, including a great signup bonus, 24/7 customer service with live chat, top-notch player security, and many banking options. This Fan Duel review will give you all the information on what they have to offer in terms of an online sportsbook.
FanDuel NJ website and features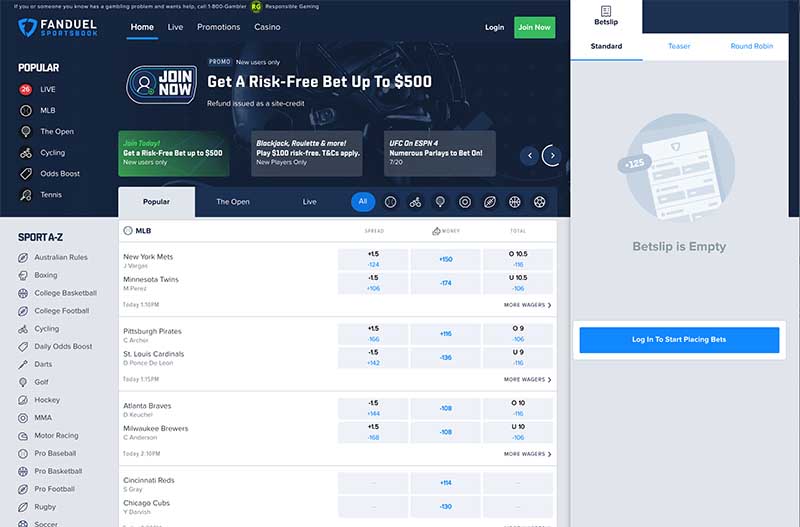 The FanDuel sports betting site has all the things that you need right on the landing page. You will see upcoming games with the latest odds, as well as some of the more popular FanDuel bonuses and promotions. Keeping track of all of your bets is very simple with the Bet Slip, which lists your wagers and allows you to make doubles, parlays and other bet types.
More: Sports betting site reviews
FanDuel New Jersey has sports covered the world over, catering to the global market as well as the local scene. They really have all of the big U.S. sports covered so if you MLB, NFL, NHL, NBA, and the college game you are set playing there. However, their list of soccer bets is impressive, and they have a ton of other markets taken care of. Mobile betting is available, and they are known for their great live betting section with more odds than typical straight and totals bets.
NJ FanDuel also offers a unique Betting Guide with tons of links on how to bet and the wagers offered for the big American sports market as well as soccer, auto racing, golf, and MMA. This is nice, as it allows you more information on how to handicap games, which makes it more likely that you can win the bet. One of the links in each of the sports offered in the Fanduel NJ Betting Guide is What You Need to Know, which really breaks down how to bet on that sports and what to look for when doing so.
Sports betting options at FanDuel New Jersey
As mentioned before NJ Fanduel sportsbook has all the sports covered the world over with no lack of betting options for all sports, especially the big American ones. They have a list of Popular sports at the top left of the page and while it's not the most popular sports, it's the events that are happening that day with the most odds.
Sports A-Z is just below that with all of the sports that have odds posted. Fanduel sportsbook also offers odds on some sports other books don't have cover such as darts, cycling, and Australian Rules Football. One of the cool things in the Popular section is the Live bets, as they not only have many live betting options, but have a number in that link in red showing exactly how many live action wagers are going on at that time.
In terms of bets to make Fanduel NJ sportsbook has them all from the typical ones such as straight and moneyline bets to totals and futures and much more. They have parlays, teasers, pleasers, halftime bets, and are known for their wide array of proposition bets.
Speaking of parlay bets, you can make multi-sport parlays, betting on multiple games in different sports. On top of that they have a special bonus for those types of wagers that we will touch on later. They even have a Futures link on the main page allowing you to check out all of the futures markets that are available and they are aplenty.
Just like showing the futures and live bets going on Fanduel sportsbook also shows all of the Odds Boost wagers where you can get increased odds on specific events for a better payout. One of the other unique aspects of the sportsbook is that for a featured event they will not only show the Bonus Offer for that game/event, but how much it is to wager on it and how much you can win.
Fanduel NJ Bonuses and Promotions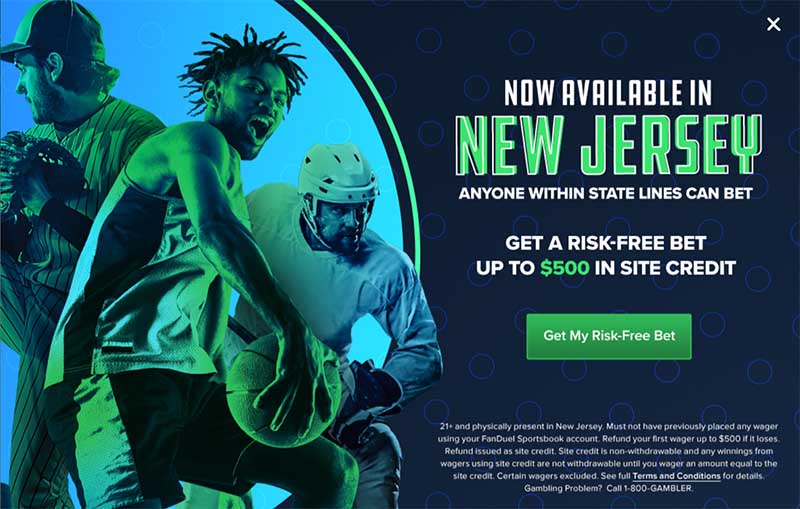 While Fanduel NJ sports betting does not have a ton of bonuses and promotions the ones they do have are good ones. First of all, they offer new members a chance for a $500 free bet. This is a unique Fanduel bonus where you can make your first bet on the site and if you lose, they will give you an additional credit on their site up to $500, so this is a win-win situation even if you happen to lose?
They offer a multi-sport parlay insurance bonus where if you play at least a 4-event parlay and only lose one on the card you will automatically get $25 in site betting credit. They also show the casino bonuses in their Promotions section and are always adding new bonuses depending on what sport is going on.
For example, like other betting sites, Fanduel offers many bonuses and promotions for the bigger events such as the Super Bowl, NCAA basketball tournament, and the World Cup. However, they go even further with Fanduel bonuses surrounding rivalry games, so for example at time of writing the Yankees and Red Sox are playing in a series of, arguably, the biggest rivalry in U.S. sports and they have a bonus for that, which is lucrative to say the least.
There is currently not a VIP or Loyalty Program at NJ Fanduel, but that may change soon. All of their bonuses and promotions come with various terms and conditions and, not surprisingly, you can read all about them in the bonuses themselves as well as in the Terms and Conditions link.
Fanduel Mobile Sportsbook
Fanduel NJ has a fantastic mobile sportsbook, which gives you a couple of options. First you can play directly from your mobile browser and you can also download the application. There is a Fanduel NJ sportsbook app for iPhone and Android devices and you can play the sportsbook through Windows devices as well.
Even on the smallest of screens all of the information through the Fanduel NJ sportsbook app are very easy to view and you have all the sports betting info right on your mobile device allowing you to wager on the go.
In the FAQ section of the Fanduel sportsbook it shows you how to download the application and everything that is available through the desktop Fanduel sportsbook is available at the mobile sportsbook as well. This not only means all the bets are available, but you can also take care of banking issues, such as deposits and withdrawals, snap up bonuses and promotions, and get in touch with customer service.
Live betting is available through the Fanduel NJ app as well. Just like on the desktop version of the sportsbook, on the mobile version through one account you can also play the casino.
Fan Duel NJ Banking Options
Fan Duel offers members many banking options, so it is easy to find a deposit and withdrawal method that you feel comfortable using. =
The deposit options at NJ Fanduel are:
Visa
Mastercard
PayPal
ACH (eCheck)
Online Bank Transfer
PayNearMe
Wire Transfer
Cash at Meadowlands
Check
FanDuel Prepaid Card
The withdrawal options at NJ Fanduel are:
PayPal
ACH (eCheck)
Cash at Meadowlands
Check
FanDuel Prepaid Card
For Cash at Meadowlands it means you can take care of deposits at withdrawals at the Fanduel NJ sportsbook at the Cash Counter at the Meadowlands Racetrack M-F from 12 pm to 11 pm and Sat and Sun from 9 am to 11 pm. Most of the deposit options are instant meaning that you can make a deposit and then start to wager right away. However, the online bank transfer and wire transfer methods take a couple of days before funds are seen in account. The withdrawals are very fast, but for check will take several days as the withdrawal will be mailed to you.
Fanduel Customer Service
NJ Fanduel sportsbook has very nice customer service and you can get in touch with them via e-mail, live chat, and phone. While not that big of a drawback Fanduel NJ sports betting does not offer 24/7 customer support, as you can reach them from 10am to 8pm EST seven days a week.
The live chat is one of the better customer service options, as not only can you reach them right away, but have any issue resolved or question answered in real time. They are also very prompt in responding to e-mail inquiries. Fanduel NJ also has a pretty extensive FAQ section that answers many common question people have and it is in this section where they will walk you through how to download the Fanduel NJ sportsbook app for both iPhone and Android devices. In the FAQ section they also have a search box, so you are able to type in a question or word and all of the self-help they have for that subject will be shown.
Fanduel NJ Player Security
One of the best things about Fanduel, according to this Fanduel NJ sportsbook review, is that you can be sure you are safe playing there. They are very serious about protecting their players and use the latest technology in order to do that.
If you have some time and want to read about all the betting site does to protect their member's personal and financial information you can read all of the info in their Privacy Policy link and to say all the information in this section is extensive would be an understatement to say the least.
Fanduel review conclusion
You can probably surmise from reading this Fanduel review that they are a more than solid online sportsbook. From being well set up and easy to navigate to offering many sports to wager on and bets to make to bonuses and promotions and reputable banking methods they have it all.
The best thing about Fanduel's site is that sports and betting markets are totally covered, and you will find many sports and wagers at Fanduel sportsbook that you will not find at other books online. They are rather new to the online gaming market with New Jersey entering it in 2018, but they have quickly gotten a, well deserved, solid reputation within the industry. They offer a lot of sports betting information as well with their many links showing bets offered and now to make bets on various sports. Overall, Fanduel sportsbook is a good one with all that they offer in terms of sports betting online.