SugarHouse sports betting review
SugarHouse sports betting review
Estimated Reading Time: 7 minutes
Site: https://www.playsugarhouse.com
Customer service email: E-mail box on website
Customer service phone number: NONE
SugarHouse sportsbook is an online betting site that is targeted to players in New Jersey and they also have a separate sportsbook for Pennsylvania bettors as well. The betting site is associated with the land-based SugarHouse Casino and is licensed by the New Jersey Gaming Commission. Writing our Sugarhouse Review, we soon found the NJ sportsbook is one packed full of sports betting information, yet it is still pretty simple to navigate. SugarHouse show some of their bonuses and promotions at the top of the page and their welcome bonus is a good one. On the landing page you will see such information as which live bets are happening at that time, the sports they have odds on, featured bets, and selected markets to name just a few things.
More: New Jersey Sportsbook Reviews
On the SugarHouse NJ sportsbook there is even live streaming of sporting events that you can watch and wager on. At the top of the page you can switch to the Pennsylvania sportsbook if you are in that state and vice-versa. The site is very secure, they offer 24/7 customer service, have nice bonuses and promotions, including a rewards program, and their list of sports and bet types is impressive. The land-based SugarHouse Casino is located in Philadelphia, Pennsylvania and as a member of the online sportsbook you can get special deals at the casino. However, while the land-based casino is located in Pennsylvania the SugarHouse NJ operates under the license of the Golden Nugget Casino in Atlantic City, New Jersey. The SugarHouse online sportsbook first went online in New Jersey in the summer of 2018 and the Pennsylvania site went online in 2019.
Online sports betting at the Sugarhouse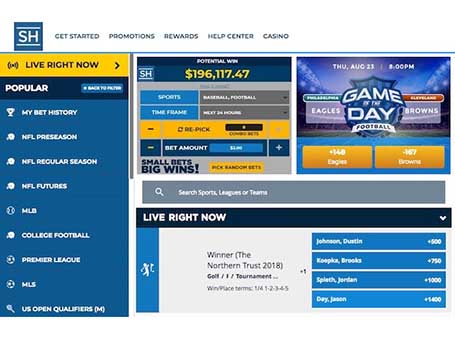 SugarHouse sportsbook NJ has all of the major sports covered in MLB, NFL, NHL, NBA, college football and basketball, and tennis and golf. They have odds for other sports as well, but most are for the sports mentioned even though they do have extensive soccer odds from leagues the world-over. They offer all of the typical bets including spreads, moneylines, totals, parlays, and futures, and a very nice list of proposition bets for both players and teams. They have a Bet Slip, which allows you to keep track of the wagers that you make. You have to be 21 years old in order to bet at either of the online sportsbooks.
The odds at the SugarHouse New Jersey casino can be viewed in decimal, fractional, and American (moneyline) form. The book has a unique Cash Out system where players can cash out their bets while the event is going on. You can cash out a losing bet if you think your bet will end up losing and if you are winning the bet at the time you can cash out before it is over taking partial winnings.
SugarHouse sports betting NJ has the live betting option allowing you to make wagers while the event is happening. While this is a feature that is with many other sportsbook SugarHouse's is different in that they use the latest technology in unison with their online connection and this is advantageous to the player since the odds stay up longer, giving the player more time to make bets. On the landing page they show the live bets that are available at the time, so you never miss out on the live betting action.
Playsugarhouse.com Bonuses and Promotions 2019
SugarHouse New Jersey sports betting offers several nice bonus and promotion offers. Their welcome bonus is a good one, as a match bonus of 100% up to $250 using the SugarHouse promo code of PLAY250. There is also a $20 no deposit bonus, which is good since you can get $20 to bet with and try out the site and it will not cost you a dime. There are higher wagering requirements in order to get this money released into your sportsbook account and to get it you have to open an account and make a real money deposit. There are also other Sugarhouse NJ bonuses and promotions that will change depending on what sports season it is and they have quite a few of them when it comes to bigger events such as the Super Bowl and NCAA basketball tournament. There are wagering requirements for the bonuses available and you can read up on them at the Promotions page as well as in the Terms and Conditions page.
There is also a SugarHouse sportsbook loyalty program in their iRush Rewards program where there are tiers for how many points earned. The more you wager at SugarHouse the more points you will earn, and the more bonus offers and cash back is available. There are 11 tiers in the program, and you will need at least 20,000 points (dollars bet) in order to get to the 10th tier. After you get to the 10th tier and continue to wager you will be sent a special request to join the 11th tier, which is the top one where you will get free wagers, deposit options customized to you, invitations to exclusive events, and bet multipliers, and even a birthday present. There is no charge for joining the program, which you can right away after opening a sportsbook account. The tier you are in will depend on points earned in a 60-day rolling period and you will see all the points in your account remain there for 30 days.
Sugar House Mobile Sportsbook
The mobile version of the SugarHouse sportsbook is a very good one and it is set up much like the main desktop version. They offer all of the same betting options as the main despot version of the sportsbook and you can even bet on live events through a mobile device. There is a SugarHouse sportsbook app that can be downloaded for iPhone and Android devices. If you want to connect through the mobile version of the sportsbook for all activities you can do so, as you can register, take care of deposits and withdrawals, and contact customer service all through the mobile device.
You have to be aware that since SugarHouse sportsbook is a New Jersey book than the application requires enabled location services because players have to be within the borders of the state. If there are issues with location services with the mobile version of the sportsbook you can contact their customer service department to take care of the issue.
Sugarhouse login and sign up process
SugarHouse sportsbook offers several deposit and withdrawal methods and the first thing you need to do is register for a sportsbook account, which is simple to do. You can open an account through the desktop and mobile version of the sportsbook by clicking on the Join Now button at the top of the screen. There is also a Getting Started link that can take you through the step-by-step process.
You first create a screen name as well as a password.
Give your e-mail address.
Enter any promo code for any bonus you would like, and this is where you can enter the PLAY250 for the 100% welcome bonus up to $250.
There is expedited registration available for existing SugarHouse casino customers using their Rush Rewards as well as SugarHouse Casino4Fun account in order to register quicker at the sportsbook.
Pick the deposit option you want to use to fund your sportsbook account.
Sugar House online banking options
The deposit options at SugarHouse sportsbook are:
Visa and Mastercard – These are two credit cards to be used for deposits and the deposit time is instant.
ACH – E-Check – For using this deposit method it will take a minimum of three days for the deposit to be seen in your sportsbook account. If you do through the ID verification process the processing time is instant and by this method, you can deposit $1500 every day.
Neteller – This is linked to a credit card and the processing time is instant.
PayPal – The processing time is instant using PayPal for deposits.
Casino cage – In this deposit method you can fund your sportsbook account by visiting the cashier cage at the Golen Nugget in Atlantic City New Jersey.
SugarHouse prepaid card – You will need ID verification when applying for this card and you can put money on this card from other credit and debit cards. You can also use this card as a debit card at merchants, for services, and at ATM's.
Bank Transfer – For this banking method you can either log into your sportsbook account and do a transfer or wire the cash to your account, which does come with higher fees, but is better for funding your account for larger amounts.
For withdrawals or cashing out at SugarHouse sportsbook NJ you can use Neteller, SugarHouse prepaid card, Pay Pal, and e-check, which comes with a 3-5-day processing time where the other options you will get paid out much quicker. You can also take care of withdrawals through a check but coming through the mail it will typically take 14 days to get there.
Customer Service
The SugarHouse customer service department is aa pretty good one, as you can get in touch with them via e-mail, and live chat but they do not offer phone support. On top of that their support service is not available 24 hours, but 9:30 a.m. to 2 a.m. EST. Their e-mail support is an e-mail box where you can fill out your e-mail and your issue and they will get back to you. The live chat is nice allowing you to take care of issues in real time.
Player Security
Player security is of utmost importance at SugarHouse sportsbook New Jersey and, first of all, you know they are legit since they are licensed New Jersey Gaming Commission. They do not share your information with any third parties, and they use the latest technology to make sure player information is totally safe and secure. Also, with very reliable banking methods you can be sure all financial data is very secure as well.
SugarHouse Sports Betting NJ Conclusion
Overall, the SugarHouse NJ sportsbook is a good one and the only real drawback is they do not offer phone support. Since they are a sportsbook the best part of their site is the many sports available and the many bets available for them. The live betting and mobile version of PlaySugarHouse.com are top-notch as if the player security and bonuses and promotions offered. While SugarHouse sportsbook has not been online long it has garnered a solid reputation in a short time. Through one account you can also wager at the SugarHouse NJ casino, which has no lack of games and player perks. Overall, they set up their sportsbook very well and it is one of the better online casinos available in New Jersey.