Golden Nugget sportsbook review
Golden Nugget sportsbook review
Estimated Reading Time: 8 minutes
Site:
https://nj-casino.goldennuggetcasino.com/sports/
Customer service email:
[email protected]
Customer service phone number:
855-582-5117
The New Jersey Golden Nugget sportsbook is one of the best around and that is not surprising since they are affiliated with the Golden Nugget brand. That brand is a reputable and respected one and the Golden Nugget has been at the forefront of New Jersey sports betting since it was legalized in 2018. In July 2019, Golden Nugget broke their own record for monthly revenue and their online sportsbook was a big part of that. Not only are they a respected brand, but one you know is legit since they are licensed by the New Jersey Gaming Commission.
The website for the Golden Nugget NJ sportsbook could not be more packed with sports betting info. It is not only attractive and sleek, it is pretty easy to navigate as well. It could take a while to see all of the site's features since there are so many of them. They have all the sports covered with many betting types for each sport, good banking options, 24/7 customer service, top-notch player security, and nice bonuses and promotions. Signing up for the Golden Nugget New Jersey sportsbook is a simple and quick process and once a member you are privy to My Account, My Feed, My Bonuses, and My Support. The virtual bet slip makes it easy to place and manage wagers, while the site is well connected on social media with Twitter, Facebook, and Instagram feeds.
On the main page you will see the main bonuses available as well as the all the sports they have odds on. At the bottom of the page they have info and links to their Live Chat and customer service and banking options. The Golden Nugget also has a poker room and world-class online casino and they go above and beyond what many New Jersey sportsbooks offer. This is shown with some of the links on the main page like How to Bet, Notorious V.I.G., Betting Rules, and Parlay Boost. They also have a Results link, which has the results of events that are finished. Live betting and mobile betting are also available for both Android and iPhone devices.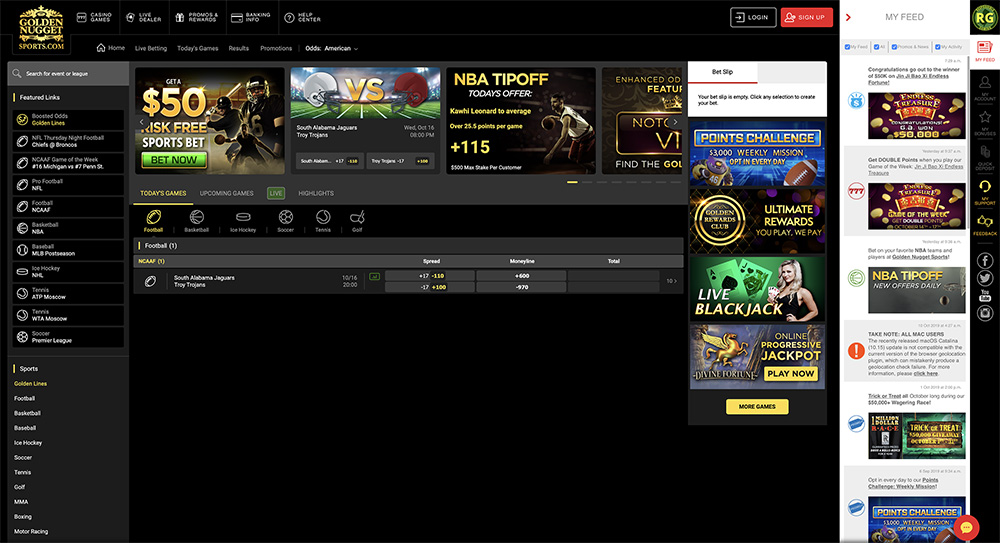 Online sports betting at Golden Nugget Casino
The Golden Nugget NJ sportsbook has a ton of sports covered from the popular leagues in North America to less popular sports and entertainment bets as well. You are totally covered when it comes to the bigger leagues such as MLB, NBA, NFL, NHL, and college football and basketball. On the left side of the landing page they have the Featured Links with odds for popular upcoming events and under the Sports section they have links to the many sports they have odds posted on. The lines are up early, while there are also links for Today's Games, Upcoming Games, Live, and Highlights. Available bet types include straight bets, moneylines, totals, propositions, parlays, futures, and round robins. There is also a search box above the sports section, which makes it easy to find whatever you are looking for.
The live betting at the Golden Nugget Casino sportsbook is a solid feature and through the Live link it shows all the bets available in little numbers besides the sports links for each sport. Not only are straight bets and totals available, but they have a nice selection of prop bets for their live betting action. The How to Bet and Betting Rules are two good links showing you all of the betting info on the site, which is great not only for beginning bettors, but those who are new to the site.
Golden Nugget NJ bonuses and promotions
Golden Nugget NJ sportsbook has a wide array of bonuses and promotions and many of them are not only for the sportsbook, but the casino as well. Golden Nugget's welcome bonus offer of a risk-free $50 bet that is available for straight bets and live betting. If your first $50 bet on the site is a winner, you win, and if you lose you get the $50 back as a free bet, so it is a win-win situation no matter the outcome. Some of the other bonuses that are available for the Golden Nugget NJ online casino as well are Weekly Mission (a points challenge against other players weekly), a $10 no-deposit bonus, and refer-a-friend bonus.
If you are looking for an odds boost Golden Nugget NJ sports betting has you covered with their Daily Odds Boost and Parlay Boost. In the Daily Odds Boost they offer enhanced odds on various sporting events every single day and the same goes for the Parlay Boost with increased odds, and payouts, when making parlay wagers in specific events. The sportsbook and casino bonuses change periodically as well and they also have specific event promotions depending on what sports season it is. Because of that you can be sure they will have some killer sports betting bonuses when it comes to events such as the Super Bowl, the Masters, and March Madness, to name just a few.
The Golden Rewards Club is the loyalty program at Golden Nugget sportsbook and is available for the casino as well. You receive points for every single sports bet you make, and you can then redeem your points for cash or other prizes. The program is pretty simple, as the more you wager the more points you will accumulate and the more free things you can get.
More: New Jersey Sportsbook Reviews
Golden Nugget mobile sportsbook apps
The Golden Nugget sportsbook has a great mobile book that is available for both iPhone and Android devices. There is a Golden Nugget betting app for each platform that you can download direct from the main website, while the Golden Nugget iPhone app is also available at the App Store. The play is seamless and in the mobile version you have all of the things you have on the desktop version, such as banking options, bonuses and promotions, and live betting. The only main difference is the absence of live chat support on the mobile app.
One of the nice things about the Golden Nugget sportsbook app is that when clicking on the link on the bottom of the page it will take you directly to a FAQ section. In this section they have three pages of commonly asked questions specifically for the mobile app such as What Devices are Supported, How Do I Download the Mobile App, and How Do I Install the Mobile App? Being a New Jersey sportsbook there will be geolocation on the phone where you will have to be within the New Jersey state lines in order to make sports wagers.
Secure banking options at Golden Nugget NJ
The Golden Nugget sportsbook offers a good selection of convenient payment methods, with credit cards, prepaid cards, wires, and a few other options available.
Supported deposit methods include:
Play + prepaid Visa, Mastercard, and Discover – Instant – $10 Min / $25K Max for Standard Program and $100K for VIP Program
VIP Preferred – Instant – $20 Min / $50K Max
PayPal – Instant – $10 Min / Max Per Transaction: $1,500 / Max Per Day: $5,000 / Max Per Month: $40,000
PayNearMe (available at 7-11's) – Within 30 minutes – $10 Min / $500 Max per day
Visa – Instant – $20 Min / $25K Max
Mastercard – Instant – $20 Min / $25K Max
Online Bank Transfer – Instant – $10 Min / $1,500 Max per day
Cash at Casino Cage (at Golden Nugget Casino Atlantic City) – Instant – $10 Min / $100K Max per day
Safekeeping – (account transfer) – Instant – $10 Min / $10K Max
Wire Transfer – 5-7 business days – $50 Min / $10K Max per day
Besides all the banking info for the deposits above in the Banking Info link there are also key facts about all of the deposit options.
Here are the withdrawal options at the Golden Nugget NJ sportsbook:
Play + prepaid Visa, Mastercard, and Discover – Instant – $10 Min / $25K Max ($100K for VIP Program)
VIP Preferred – 2 business days – $20 Min / $250K Max
PayPal – up to 48 hours – $10 Min / Max Per Transaction: $40,000
Check – 2-3 weeks via mail – $300 Min / $10K Max
Cash at Casino Cage – Instant – $10 Min / $100K Max
Safekeeping – Instant – $10 Min / $10K Max
Wire Transfer – 5-7 business days – $500 Min / No maximum withdrawal limit
Just like the deposit options for every withdrawal option there are also key facts for each of the options available.
Golden Nugget New Jersey customer service
The customer support service at Golden Nugget is hard to beat, as they are available 24/7 and they can be reached via phone, e-mail, and live chat. The phone is toll free from New Jersey and they are prompt at getting back to you via e-mail. The live chat allows you to speak directly to a customer service representative to get issues resolved in real time. One of the nice things about the customer service is their extensive FAQ section. Simply by clicking on the Help Center link located at the top of the sportsbook landing page you are taken to a wide array of self-help topics with all of them having links of their own. Just a few of the subcategories are Sportsbook FAQ's, General FAQ's, Payment Methods, and Mobile FAQ's. At the bottom of all the subsections they have a Contact Us link, which shows you their phone number and customer service e-mail address.
Player security at GoldenNuggetCasino.com
Player security is more than solid at Golden Nugget NJ sportsbook, as they are a well-known and respected gaming brand licensed by the New Jersey Gaming Commission. All of the servers are protected by firewalls and other standard security procedures. Not only that, but they have a ton of information about safety and security in their Terms and Conditions and Privacy Policy links that are located at the bottom of the landing page. They spell out all the measures they take to make sure player's information is 100% safe and secure and they do not share any information with third parties. They really go out of their way to show players what they do with their information once given to them to ensure players not only have the best sports wagering experience but are 100% safe and secure when wagering on the site.
What we think of the Golden Nugget NJ sportsbook
As you can see from this Golden Nugget sportsbook NJ review, this is one of the best betting sites around and it is no coincidence they are always the leader when it comes to revenue streams for New Jersey gambling. The site is very well set up and on the landing page you can find everything you are looking for when it comes to sports betting. It is simple to find whatever you are looking for from sports offered to bet types and bonuses and promotions to banking options. The Golden Nugget sports betting site boasts a great customer service department and payouts are quicker than many other books. If you are looking for drawbacks you will be looking a long time, as there are not any besides the fact that live chat is not available through the mobile casino, but that is common among New Jersey betting apps. All in all, the Golden Nugget sportsbook is one of the best, if not the best, for New Jersey bettors.