Live sports betting New Jersey
Live sports betting New Jersey
Estimated Reading Time: 8 minutes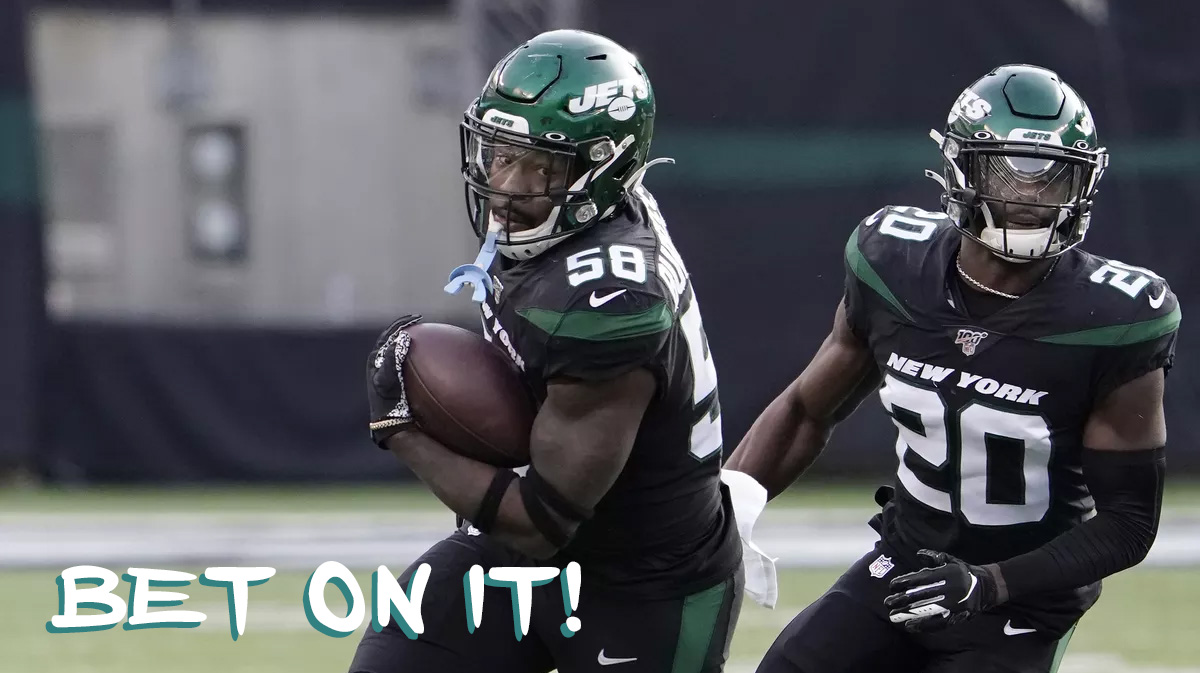 Whether you are new to sports betting or just a casual sports fan, you've probably found yourself asking at some point, "Can I bet on sports live while watching them?" After all, how many times have you been watching a game in which you can feel the momentum shifting and wished you could bet on it before that inevitable turn of events transpires? How many times have you seen the New York Jets run the same play on third-and-short and wanted a way to bet on it?
In the past, sports betting was mostly limited to just pregame and halftime wagers on the outcome of the game. But in recent years, online sportsbooks and modern-age technology have made it possible to participate in live betting. Here's a look at how live betting works, how you can participate in it in New Jersey, and some tips on how to win.
---
What is in-play betting?
In-play betting, also known as live betting, is a type of betting that allows you to bet on sporting events as they are happening. The betting odds on the event that is available for in-play betting are constantly changing based on what is happening in the game.
For example, The New York Giants might be 9.5-point underdogs against the New England Patriots before the game begins. But after jumping out to an early 10-0 lead, the line adjusts to make the Giants a 3.5-point underdog in the game. Bettors can now wager on this new spread or continue to see how the game develops before making a bet on a line that they like.
This is just one simple example of live betting; in many cases you will be able to bet on all kinds of different facets of the game.
---
How does live betting work?
When you open up an event that has in-play betting on your online sportsbook, you will see the current details of the event at the top of your screen. Who the teams involved are, what the score is, how much time is left, and so on. Beneath this live look-in are all of the lines that are available to bet on.
For example, let's say that you are watching a best-of-three tennis match between Serena Williams and Simona Halep that is tied at two sets apiece heading into the third and final set. Before Game 1 of the first set begins, you will be able to bet on Williams or Halep on the moneyline with their new live odds.
But you will also be offered odds on a slew of other propositions. Who will win the set? Who will win Game 1 Point 2? Point 3? Point 6? Will there be over or under 1.5 tiebreaks in this set? What will the exact score of the set be? Will it go over or under a certain number of points?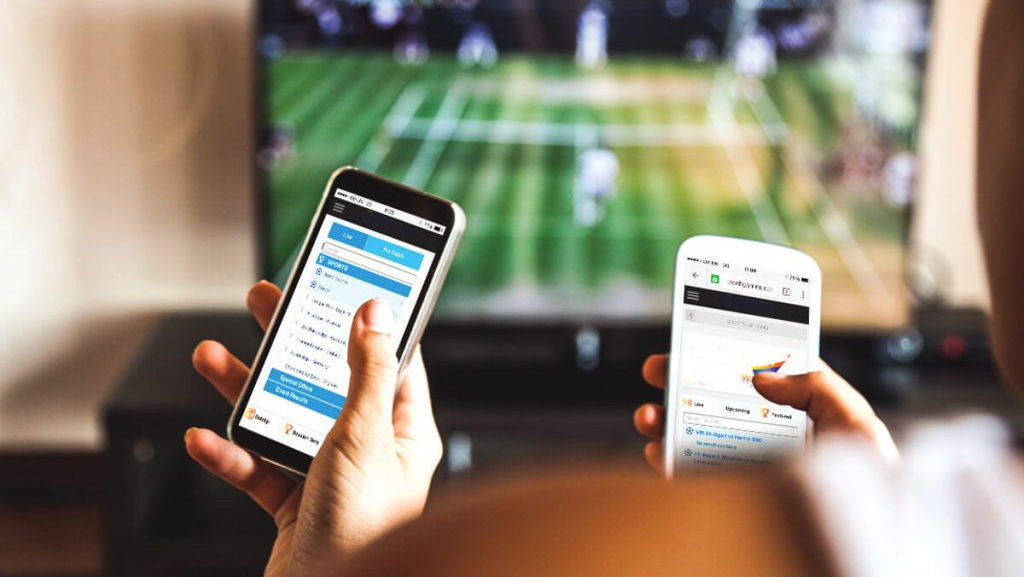 All of these betting odds are dynamic; they are updated after every point. Say that Halep is a -180 favorite to win the match against Serena Williams (+140), but Williams takes a 30-to-love lead in the first game of the set. The odds might shift to Halep -140 / Williams +100. But if Halep recovers and goes on to win the set, the new moneyline odds might shift to Halep -250 / Williams +180. Every action that occurs within the event you are live betting on will have an impact on the betting lines available to you.
This betting style is not for the faint of heart. You have to make quick decisions as the lines are always changing; your live bet will be locked in once you submit it, but if you hesitate and it changes, you won't have access to the old line again; unless something in the event happens to bring that line back.
---
What sports can I bet on live in-play?
You can live bet on any sport that your sportsbook allows you to. And in many cases, that's just about all of them. Live betting has become so popular that New Jersey sportsbooks try to offer as many events as possible for in-play betting. Football, basketball, baseball, hockey, soccer, tennis, and many more sports are all available for live betting.
While NJ online sportsbooks do tend to have a large betting board of live betting events, not every game will have in-play wagering available. Be sure to check your sportsbook's live schedule before planning out a live betting strategy for a specific game or event.
Which sportsbooks allow you to bet live on in-play action?
At this point in time, all of the legal online sportsbooks in New Jersey offer in-play wagering. For bettors that tend to stick to the major sports, any of the below highly-rated online NJ sportsbooks will suffice.
Top 5 NJ live betting sites:
Bettors that are looking for a wider range of live betting options that include many international options can't go wrong with Bet365. Bet365 NJ not only offers a huge number of games to live bet on, but also has live streaming available on some of those international contests.
---
Which is the best sports betting app for live betting?
When it comes to apps for in-play betting, Bet365's live streaming capabilities is what sets their app apart from the rest. While watching a live streaming game, you can pin the stream in place on your phone or tablet and navigate around on the rest of the app. This gives you the option to have the stream and the live-betting window open at the same time for optimal in-play betting even when you are away from your computer.
As mentioned above, any of the excellent online sportsbooks in New Jersey will get the job done when it comes to live betting on more mainstream events. All of the sportsbook apps function the same when you are using their in-play features, so which one is right for you will really boil down to personal preferences on the differences between them including what types of lines are offered and how you like the app's interface.
---
Live betting strategies
Now that you have a better idea of what in-play betting is and how it works, here are some tips to keep in mind as you dive in.
1.

Manage your bankroll

Any experienced bettor knows that no matter how good or bad of a handicapper you are, you are going to have some big streaks in both directions. Nothing beats the high of a hot streak, but most bettors remember losing streaks more than anything else. Sometimes it feels like every bounce is going against you and you can't buy a win.

When you are betting on conventional lines, a 15-play cold streak of 2-13 might play out over the course of a week or longer. But when you are live betting, those 15 plays might all come in the first half. And if you were betting too much of your bankroll on every play, you could be in danger of feeling the need to chase your losses or wiping out your account before the game is even over.

Have a plan for your bankroll and bet-sizing before you begin. Ideally you will have enough money in your account to cover the occasional unlucky swing in the wrong direction. And if you are working with a limited bankroll, consider betting a smaller number of live wagers per game to stretch it out, perhaps just targeting your best bets.
2.

Look for spots that you can go against the grain

You don't have to be a contrarian for the sake of being a contrarian. There are plenty of times that an obvious sequence of events plays out as expected, and those on the "public" or popular side all win. If you believe strongly that there is value in a side, bet it regardless of whether it is the popular side or not.

With that said, in-play betting odds are heavily driven by how people are betting. If the New England Patriots were a 7-point road favorite against the New York Jets and they score a touchdown on their opening drive, there's a very good chance that a lot of people are going to want to bet on the Patriots believing that the rout is on, potentially driving the line up to New York +9 or +10. Similarly, a game with a high pre-game total of 56.5 might soar up into the 60s if the game gets off to an early 7-7 start.

Because the nature of live betting is so fast and reactionary, most players will impulsively bet on the obvious side based on what they just saw. Sometimes that's the right move. But in other cases, the "obvious" side gets hit so hard that the contrarian side is suddenly where the value is. Be aware that unless you are one of the very first to bet a live line, you will usually be paying a premium on public sides; don't be afraid to go against the grain and bet the less popular side when you see value there.
3.

Carve out a focus and stick to it

In-play betting can sometimes give you the feeling that you are a kid in a candy shop. What will the result of this at bat be? Will the next pitch thrown be a strike or ball? How many runs will be scored in this half-inning? Who will win the game? The first five innings? The third inning?

With so many betting options available to you at all times, it's tempting to bet, bet, bet. And there's certainly nothing wrong with occasionally taking an aggressive approach or taking a shot on some of the more exotic prop bets. But when it comes to crafting a long-term winning strategy, honing in on an area of expertise can be far more lucrative than stretching yourself too thin.

Think for example about how much more in-depth you know your favorite team in your favorite sport than you do the other teams in the league. For example, say that you are a die-hard New Jersey Devils fan. You know who's hot, who's cold, who's playing through an injury. What time your coach tends to pull the goalie when the Devils are trailing late in the game. How good your top prospects are supposed to be, how your line combinations mesh, etc.

Can you name the fourth-line right-winger for the Los Angeles Kings? Or the third-best prospect in the Vancouver Canucks' system? Probably not. So now imagine that you are in-play betting a Devils vs. New York Rangers game instead of a Kings vs. Canucks game. Your in-depth knowledge of the Devils is going to make a significant difference on your betting strategies.

Another line of focus might be on a specific type of live-betting. Say that you decide to focus all of your energy on live-betting first quarters in the NBA. You start learning every team's rotation patterns, when head coaches call timeouts, how the team reacts to taking an early lead or falling behind. By narrowing your focus, you became an expert at one thing instead of throwing darts at 100 things. You might bet other things for fun, but bet on your point of focus to win.
4.

If the line isn't right, don't force it

Lastly, this may seem obvious when you aren't in the heat of an in-play betting session, but it's important to mention; don't force a bet if the line isn't right.

Perhaps you feel that a certain side is 90% to win; you'll probably end up cashing the bet regardless of the line. But betting a proposition that will win 90% of the time is a profitable play at -850 and an unprofitable play at -1000. The same is true for an underdog you feel strongly about that has a 20% chance of winning; it's a good bet at +450, but not the right price at +350.

There are so many live betting options available that you simply can't possibly bet on every lean that comes into your head. Wait for spots in which the betting line is providing you with some value on your play.